If you are able to visit the library of the Pennsylvania Historical Society in Philadelphia, you will find a wealth of early Quaker records. The shelves of their Pennsylvania room hold rows of church records, bound years ago in green and brown. These are not the fragile original records, but copies or in some cases photostats of the originals.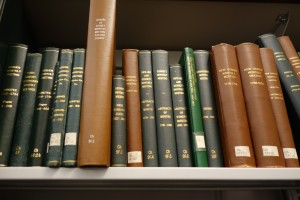 The online catalog of the Society, called Discover, allows you to search for particular records. For example, you could enter Philadelphia monthly meeting in the search box, then click on the Find button.  To narrow down the results, you could filter for Church records and registers. The results do not always pin down the contents precisely. Here are some of the more useful records for the earliest Quaker meetings, with their call numbers.
Note that the records are currently being digitized and will eventually appear on the FamilySearch website.
In the table below, older handwriting refers to the 1700s, while later handwriting refers to the late 1800s when many records were copied by William J. Buck, Gilbert Cope, and others. The later handwriting is easier to read, while the earlier handwriting gives you a feel for the original work.
Meeting
Births
Deaths
Marriages
Falls
An old handwritten list in alphabetical order. Bu 7F:3.
A later copy. Bu 7F:2 and Bu 3F.

An old handwritten list, Bu 7F:3.

An old handwritten list, Bu 7F:3.
A later copy in alphabetical order, Bu 3F.
Middletown
A later copy in alphabetical order, Bu 3F.
A later copy in alphabetical order, Bu 3F.
An older handwritten list, along with Falls Meeting, Bu 1F:3.
A later copy in alphabetical order, Bu 3F.
Philadelphia
A handwritten copy in alphabetical order, Ph 1F:4.
An 1877 copy, roughly chronological, Ph 1F:1
A handwritten copy in alphabetical order, Ph 1F:4.
An 1877 copy, roughly chronological, Ph 1F:1
Abstracts of marriage certificates, alphabetical order, Ph 15F.
Abstracts in chronological order, Ph 1F:3 (and Ph 1B:2).
Both of these sources have some witnesses listed, but not all. Get those on Ancestry.
Abington
Typed copy, roughly chronological, Mo 1F:1.
Births of Byberry Meeting (part of Abington MM), Mo 1F:10.
Typed copy, roughly chronological, Mo 1F:1.
Byberry records, later copy, Mo 1F:10.
Typed copy, roughly chronological, with witnesses, Mo 1F:1
Radnor
Later handwritten copy, chronological starting 1682, De 15F:2
Different late list, chronological order starting 1680, De 15F:1
Later handwritten copy starting 1686, De 15F:1
Abstracts with witnesses, De 15F:1.
A bare list taken from the minutes, starting 1682, De 15F:2.
Later abstracts (by Gilbert Cope), with witnesses, closed stack, FC County De.

Chester
Later copy, alphabetical order, Ch 22F:2.
Chronological order starting 1677, De 2F:1
Later copy, roughly chronological starting 1682, De 2F:1
Abstracts with witnesses, in roughly chronological order, De 2F:1
Concord
Later handwritten copy, roughly chronological, De 9F:2
Later handwritten copy, De 9F:2
Later handwritten copy, few witnesses, De 9F:2.
Certificates with witnesses, alphabetical order with index, De 9F:1
Darby
Later handwritten copy, alphabetical order, De 13F:1
Later handwritten copy, alphabetical order, De 13F:1
List of marriages from the minutes, no witnesses, De 13F:1.
Newark/Kennett
A chronological list, Ch 9F:1, plus a later copy at Ch 9F:2.
A later copy at Ch 9F:2
A later list, in alphabetical order, Ch 3F:2